As a business owner, you want to ensure your website appears as high as possible in search results. After all, potential customers are more likely to find and click on a link close to the top of the page. That's where local SEO comes in. Local SEO is a process by which you can improve your visibility in search results for people searching for businesses near them.
If you need to become more familiar with local SEO or looking for ways to boost your business's visibility in search results, this guide is for you. We'll cover what local SEO is, how it works, and some tips and tricks for getting the most out of it. By the end of this post, you'll have everything you need to start improving your business's local SEO! Let's get started.
What is local SEO, and why is it essential for businesses?
Local SEO is a term every business needs to consider. It is the process of optimizing a website's content and visibility to boost its ranking in local search results. Companies can develop targeted leads that anticipate their location needs and preferences by connecting a business with relevant local searches. Currently, nearly 50 percent of people are looking for information related to local businesses while on the go, so local SEO is integral to help bridge that gap. Additionally, local SEO ensures companies reach potential customers when searching at the right time and place. A successful local SEO strategy for businesses should include an accurate profile of their contact info across various listing services and setting up local review sites like Yelp or Tripadvisor where customers can share their experiences within their region or city. An effective local SEO plan has become essential if businesses want to reach their target audience in the digital age!
How to optimize your website for local SEO
Optimizing your website for local SEO can help you attract the attention of potential customers near you. Start by registering with Google My Business and filling out your profile completely. You should also build relevant backlinks from credible sources and try to get links with geographical modifiers such as "near me" or "near [location]" in them. Additionally, ensure that all information on your site is up-to-date and accurate so that customers can trust you. Finally, keep an eye on your business's online reviews to ensure it's always viewed positively. With these steps, you will be well on your way to SEO success!
How to create and claim your Google My Business listing
Creating and claiming your Google My Business listing is essential to establishing yourself online. Not only will it help local customers find you, but it can also establish trust in your brand and even boost your visibility on search engine results. It's a simple process overall, but there are still some key steps you should take to ensure you do it right. First, use the official Google My Business website or app to create and customize your business profile with details like contact information, physical address, hours of operation, services offered, etc. Once that's done, confirm that you manage the location by verifying your business through the Google Business Portal. Finally, once the confirmation is complete, you're ready to start marketing to new customers who can find you easily!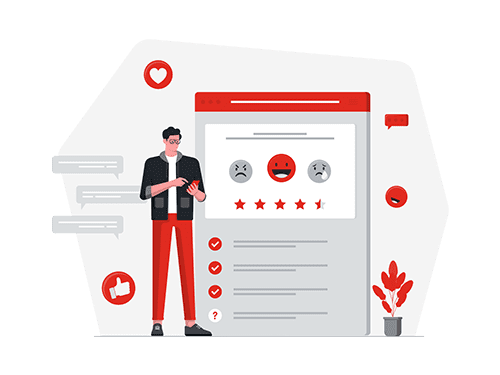 Tips for optimizing your Google My Business listing
Optimizing your Google My Business listing is essential in today's digital age. Showing up at the top of a Google search can make all the difference in reaching new customers. Begin by verifying that your business information is accurate and up to date. Include plenty of photos, a detailed description, and often-asked customer service questions. Doing so will not only improve the visibility of your listing but can also save time by providing customers with the vital information they need quickly and efficiently. Spend some time getting to know what data you need to provide to ensure an optimized listing; a little effort now can make all the difference to prospective customers.
How to generate positive online reviews for your business
Generating positive online reviews for your business is critical in today's digital age. It's an effective way to make sure those considering becoming customers see the value of your product or service. The secret to getting customers to leave great reviews lies in customer experience. Excellent customer service and top-notch products or services will leave customers satisfied and excited to tell the world what you offer. In addition, providing incentives, such as special discounts and product giveaways, can encourage people to leave positive reviews for your business. The key is finding creative ways that work for your company so you can generate more positive online reviews that will result in more conversions.
Other ways to boost your business's visibility in search results
To break through the noise in today's online sphere and give your business an edge, think beyond SEO when boosting visibility. First, utilize social media: compelling post content, engaging with customers, comment on hashtags relevant to your industry, and team up with influential influencers. Second, leverage the power of email marketing: send subscribers valuable newsletters that can help them tackle their daily challenges. Third, remember directory listings: make sure your business isn't buried among unfamiliar competitors and create profiles in local directories that appear on the first page of multiple search engines. Lastly, don't discount community outreach- forming connections with those in your industry can be a powerful tool for bringing attention to your products or services. Use it wisely and watch your business soar!
Summary
All of these Local SEO tips will help you take your business to the next level and get found by more customers online. If you need help implementing any of these strategies, our team at Ruby Shore is here to help. We specialize in Local SEO and can create a custom plan to help your business dominate the search results in your area. So give us a call today to learn more!